When i first came to Zambia i have never heard about the english word "load shedding" before. I dont know if we have a similar word in Swedish for what it actually means but anyway, load shedding is when the government schedual powercuts to save electricity for different reasons.
We have been exposed to load shedding here in Zambia for the last couple of months now. Its the worst drought here in 46 years, the damms are totaly dried out everywhere and apperently the government hasnt payed their bill for the electricity in a long time (or something like that) so now they have to reduce the power consumtion in the whole country. Its not the first time Zambia is suffering from load shedding but the amount of hours they are cutting the power off now is ridiculous.
.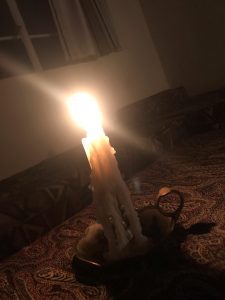 .
We started off at 4 hours/day without electricity, then 6 then 8 then 12 and now its 20 hours/day. It means we have 4 hours of power everyday and they fancy turning the power on at night when nobody uses it. They have devided the country into regions and turn the power off according to a schedual depending on in wich region you are BUT the problem is that they are not following the schedual. Its crazy. I mean big companies have big generators for sure but the diesel cost of running those things are insane.
It gets dark out here at 18.30 every day, without electricity we cant pump water from the boreholes at the farm and at the moment we have an outside AND inside temperature of 36-40 degrees in daytime and around 26-30 degrees at night. Phuuu…its hot! Without power no fans and no signal booster for the internet wich means no internet anywhere close to the house. If i walk 1 km up the farmroad the signal gets better and i can make a call.
.
To live a life somehow close to a western standard wich means being able to charge the phone everyday, have a shower daily and to take water forgranted becomes more and more difficult. And MUSIC…wow i miss music! To put the volume up in the house while cooking and having a cold coke/beer in the meanwhie…oohhhh yeah COLD, haha COLD also becomes a problem when fridge and freezer is not working.
.
If you live in the western world try to BE GREATFUL to be able to benefit everyday from these daily luxury resorces as electricity and water. We do forget these things!
.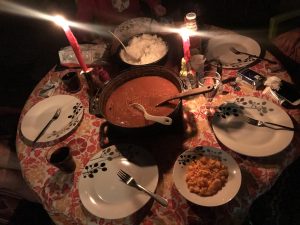 .
So how do we get on with this issue of no power…?
We do have a small generator and a couple of big batteries that we can connect to get "emergency power". If we reallt need to charge a phone (wich is fairly important out here in the bush incase of emergency), do some work on the internet or pump more water. We have powerbanks wich we charge as soon as there IS power, we use gaslamps as lights, make a big nice fire outside at the veranda if we spend the evening out there, we keep containers with water in the house for "bathing", drinking and cooking, we cook on a gas stow ofcourse AND we do consume a couple of candles/week.
.
Its f*cking hot, we do smell bad from time to time and its a bit of a "headf*ck" when it gets dark at 18.30 and you cant watch TV or do something on the internet on your phone to kill time. Its even to dark to read. I think so far the best thing for me to do to kill time is to make sure im busy in the kitchen cooking or baking or just experimenting. But ofcourse again all of it has to be tasks where electricity is not needed. Its a challenge for sure, both physicaly and mentaly . I will tell you more about these challenges of living out here in the Zambian bush in another post shortly.
.
Anyway, people here are use to these surcumstances and they are always making a plan and im learning as we go. Im frustrated to f*ck most of the time but im still happy to have gottten the chance to experience this kind of life we are living out here. You do learn how to appreciate daylight! Haha! Below is a picture of one of the gaslamps. COOL!
.